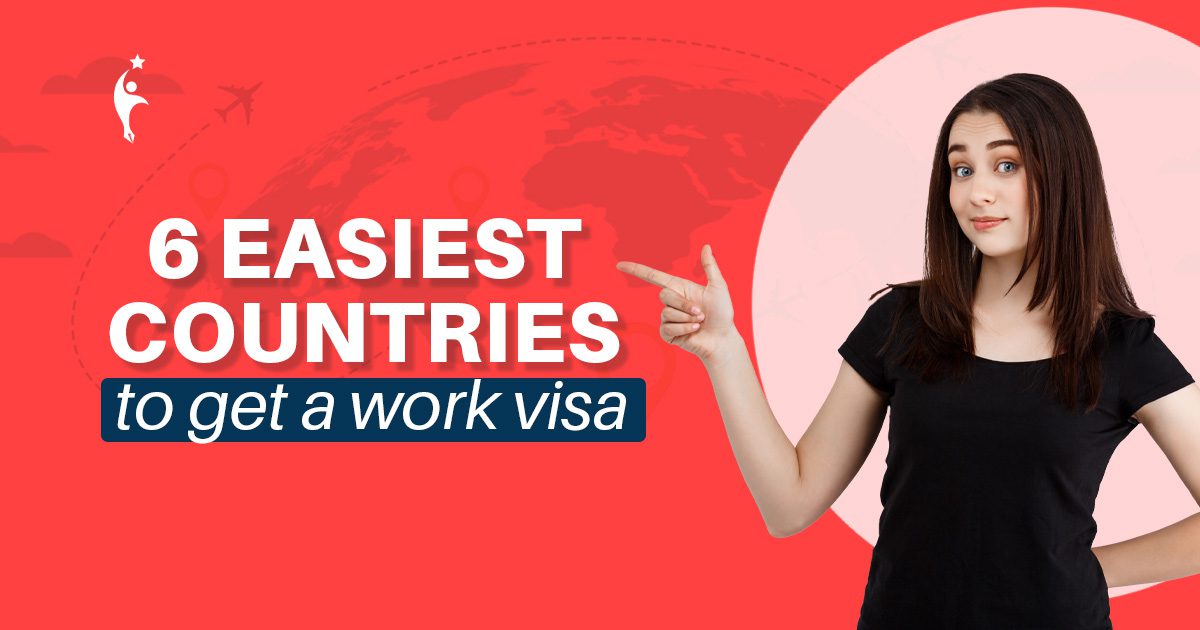 10 Aug

6 Easiest Countries to Get a Work Visa! 

While some countries demand a lengthy application process, others merely need a quick one. This can lead you to ponder which countries in the world genuinely have the easiest work visa applications. Don't worry. With our years of experience in the immigration industry, we have selected the top six countries in the world where a work visa can be obtained easily. 
1. Netherlands  
Netherlands is ranked as the one of the best nations in the world for managing work-life balance by the OECD Better Life Index. It is the place to be if you're an entrepreneur. By luring in international inventors and scientists, the nation hopes to generate new jobs. Applying for a year of residency in the Netherlands is possible if you have a startup idea.
In terms of work visas, Netherlands is renowned for having a simplified process. The 'Orientation visa,' which has no limitations, enables permission for non-EU nationals. After receiving your diploma, you are permitted to remain and work in the Netherlands for a year. You can get temporary employment under the temporary work visa.
Types of Work Visas in the Netherland:
Short-stay work visas
Temporary work visas
Long-stay work visas
USP: You do not need to submit any proof of sufficient funds.
Salary Expectation: The average salary starts from €5400 (US$6400 per month). 
2.Germany 
Though Germany is not the best country to obtain a work permit, the country should be on your radar if you are a freelancer. Berlin offers an "artist visa" that lets freelancers establish residency in Germany for self-employment. But specific requirements need to be fulfilled before an 'artist visa' application can be made, such as obtaining health insurance and writing a business plan.
This country has one of the quickest work visa applications worldwide. The process of obtaining a work visa is also among the simplest in the entire world. The whole procedure might be finished in as little as 40 days, provided that everything is in order.
Types of Work Visa in Germany:
Job seeker visa
EU Blue Card
USP: Germany might offer a good opportunity for the graduates.
Salary Expectation: You can expect a minimum salary of €55,200 (US$65,000) per year. 
3. Australia  
With its two graduate work stream and post-study work stream programmes, Australia is one of the nations where obtaining a work visa is the simplest. If you qualify in a field where there is a scarcity of skilled workers, the Graduate Work Stream enables you to remain and work in Australia. Holders of British National Overseas or Hong Kong passports may stay in the country for up to five years through this stream, whereas foreign applicants may only stay for up to 18 months.
Types of Australian Work Visa:
General skilled migration 
Temporary work visa  
Skilled Work Regional 
USP: The Post-Study Work Stream has fewer requirements.
Salary Expectation: You can expect to have a salary of around AU$158,500 (US$114,400) per year. 
4. New Zealand  
In addition to being one of the easiest countries to obtain a work visa for, New Zealand has long been a favorite destination for students seeking to study amidst breathtaking surroundings. Its post-study work visa, which is granted to individuals who have successfully finished a relevant degree in the country and is valid for up to three years, is perfect for searching for your first job after getting your MBA or business master's.
Types of New Zealand Work Visa:
Skilled Migrant Work Visa
Essential Skill Work Visa
Entrepreneur Work Visa
USP: You can apply for the Entrepreneurship Work Visa offers and get a chance to build your business in the country for up to three years.
 Salary Expectation: Your minimum salary could be around €55,200 (US$65,000) per year. 
5. Canada  
As the US tightens visa requirements, Canada has expanded its policies for international students, making it one of the nations where obtaining a work visa is the simplest. The new regulations allow students who begin their studies in the autumn to complete up to 50% of their coursework online while still qualifying for a Post-Graduation Work Permit (PGWP).
Under the Federal Skilled Worker or Canadian Experience Class programmes, you can also apply for permanent residency (and hence the ability to live and work in Canada). To be eligible for the Canadian Experience Class programme, candidates must have finished their internship in Canada. 
Types of Canadian Work Visa:
International Mobility Program (IMP)
Temporary Foreign Worker Program (TFWP)
Post-Graduation Work Permit Program (PGWP)
USP: You might find some top business schools and workplaces here.
Salary Expectation: The average salary for a full-time worker in Canada is $54,630 per year or $1050.59 per week. 
6. Singapore  
Thanks to its top-rated schools and links to businesses across Asia, Singapore has already been a popular choice for MBAs. If you have graduated from a higher education program in the country, you are eligible to apply for a short-term visit pass, allowing you to stay in Singapore for an extra 30-90 days.
If you fall within the category of a "mid-skilled" worker, you are eligible for the S Pass, which is extended for graduates making at least $2500 per month for up to two years. You can apply for the EntrePass if you want to start your own business in Singapore. But keep in mind that in order to qualify, your private limited business must have been established or you have plans to launch and register it with Singapore authorities.
Types of Singapore Work Visas
Singapore professional work permits.
Skilled and semi-skilled employees' employment permits.
Singapore trainee and student work permits.
USP: Singapore offers short-term passes for training to students, professionals, and semi-skilled workers
Salary Expectation: The average salary in Singapore is S$5,783 per month.  
Wrapping Up!  
Your career goals don't have limits, so why should your job search? There is nothing quite like working internationally, expanding your global network, and living your life to the fullest. Hope the above list helps you take your career beyond borders by finding work abroad this year! To get more guidance and knowledge, consult Immivoyage, reputed immigration consultant in Mohali. Good luck!