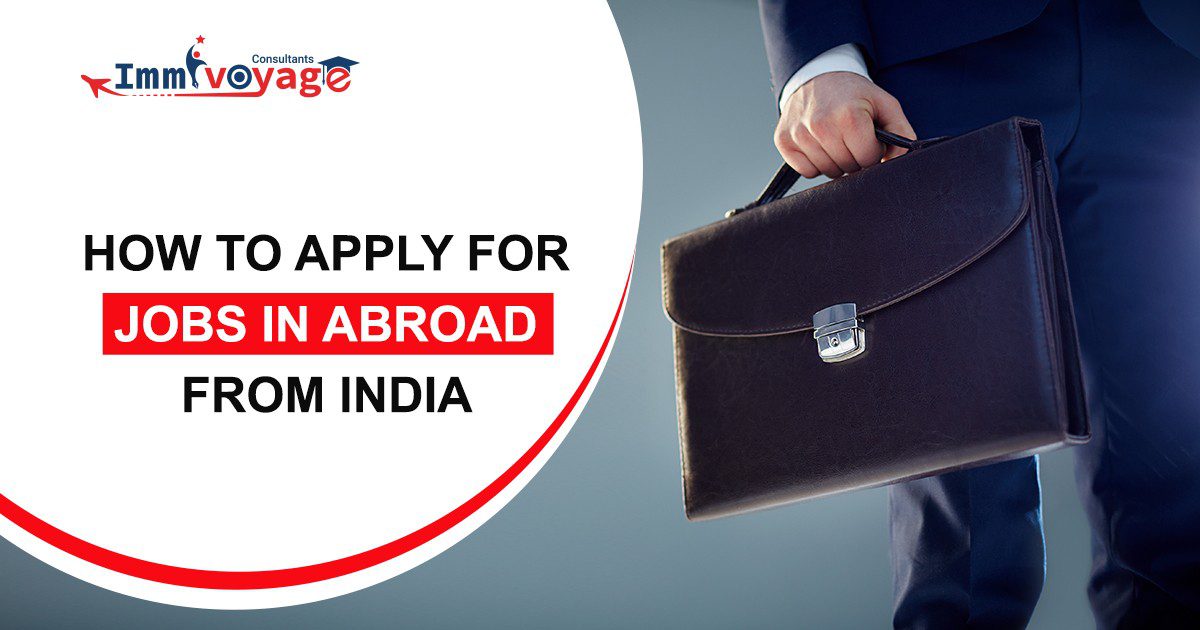 02 Jul

How to Apply for Jobs in Abroad from India?

Working abroad is still a dream for many. People from all over India are looking forward to applying for suitable jobs abroad to get some good earning opportunities and an improved lifestyle. These days you will find at least one person from each family preparing to settle overseas or is already working there.

If you want to apply for jobs in abroad from India, stay tuned to know all about it.  

Before knowing how to apply for foreign jobs or overseas jobs, let us first talk about the advantages of working abroad.
What are the Advantages of Working Abroad?
Honestly, you will find difficulties initially while working in foreign jobs. Still, the benefits you get there will cover up for all the challenges, and you will soon enjoy working abroad.
Let us see what these advantages are.  
Whether you earn in dollars, yen, or euros, you will find opportunities to make good money.   
Not just monetarily, but you also get to explore different cultures and religions while working abroad.  
With foreign jobs, you will get to experience good workplace dynamics and increase your knowledge.   
One of the key advantages of working abroad is that you will have time to learn something new with good employment choices.   
It provides you with good network opportunities where you can meet new people and gain from their experience.   
Your lifestyle enhances to a great extent. You get accustomed to higher standards of living.   
So, now let's step in and see how to avail these advantages!
Before you know the process of applying for jobs abroad from India, make sure you understand the requirements that need to be taken care of.  
Have a clear idea about what you are looking for.
Prepare a budget for your planned expenses.
Your visa process should be done in advance.
Gain some basic knowledge of the respective country's language you wish to work for.
Here are some of the demanding job opportunities to work overseas:
Tour guides 
Jobs in Restaurants 
Bartender 
Scuba diving instructor 
Working on a cruise ship 
Volunteer work and many more.   
How to Apply for Jobs Abroad from India
The process for applying for jobs abroad from India is as follows:
Find Suitable Positions for Yourself   
First of all, look for positions that best suit your credibility. Then, you can look for countries that fulfill your checklist. There are various ways through which you can look for jobs of your choice:
Networking: Create a profile for yourself that stands out among the rest of the applicants and find online groups or job portals that connect you internationally. Start looking for job listings every day; it will keep you updated.

International Job Boards: Use international job portals to narrow your search and look for suitable job positions. It will save you time that you can invest in other productive activities.
Intern Abroad: You can intern abroad while you complete your studies there. The basic ideology is that if you intern with a company, there will be a higher chance that the specific company will hire you.
2. Submit your Application
For applying to a job abroad, the next step would be to send an application. Try mentioning your e-mail address, WhatsApp, zoom and skype address so that they can easily reach out to you.
Keep in mind to include all the necessary information in your application. Make sure you use the spellings accepted in the country you are applying for. In addition, you need to assure them that you are worthy of the particular position.
3. Apply for the Work Visa
To work abroad, you need to have a passport and a work visa. After applying for a work visa, you need to visit an embassy for an interview. In addition, you need to submit records of medical, police verification, and more.
Keep in mind that visas and work permits take time and require a good amount of money. Therefore, be careful while filling these visa forms.
Once you find a suitable job, make sure you have applied for the visa at least a few months before.
Get Assistance from Experienced Work Visa Consultants in Mohali
When you need to relocate to a foreign country for work, the work visa consultants come into the picture. They will help you relocate so that you can fulfill your dream of having a foreign job and settling abroad. In addition, they will efficiently guide you by breaking down the complex process into simpler ones. To increase your chances of securing a job abroad, contact the best work visa consultants in Mohali.