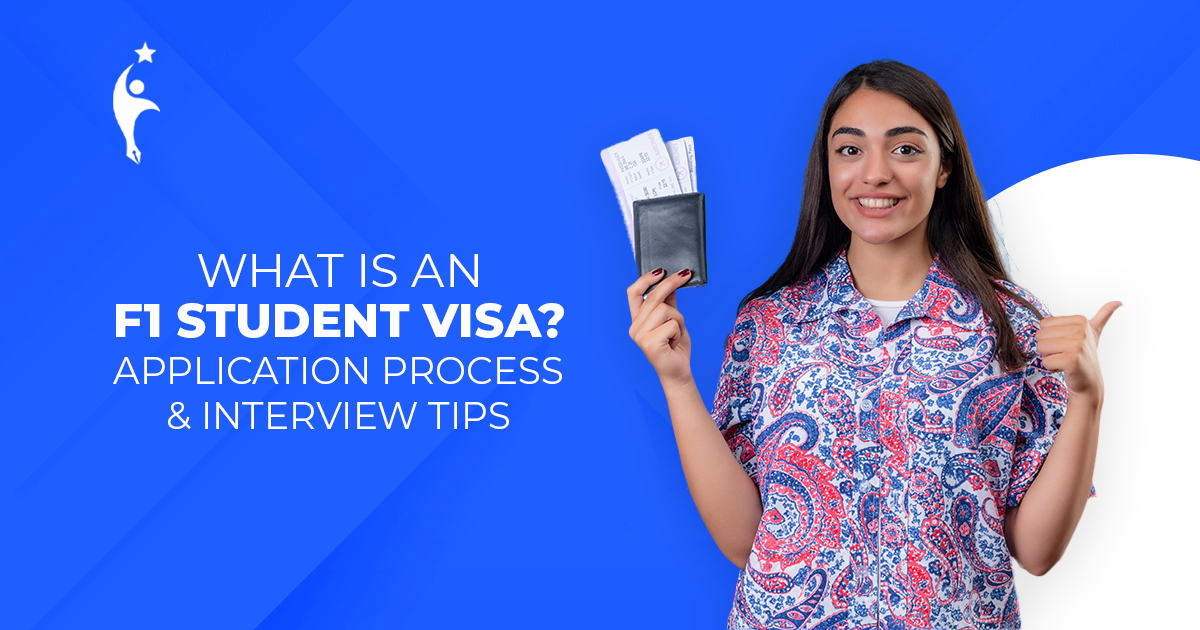 21 Jun

What is an F-1 Student Visa? Application Process and Interview Tips!

For many students, the chance to learn in the United States is the culmination of years of hard work and sheer dedication. So, if you are among those students who aspire to go to the US or have already got admission into your dream university, applying for an F-1 Student visa is the next important step.   

But, before we get ahead to know all about an F-1 visa, first, let's know what an F-1 visa is?  
What is F-1 Visa?
An F-1 visa is a non-immigrant visa that allows international students from all over the world to enter the U.S and study at institutions certified by the Student and Exchange Visitor Program (S.E.V.P). It is one of the most popular types of student visas for students seeking to study in the U.S.  
F-1 visas are provided only in U.S embassies and consulates outside the United States. Though the process is relatively simple, the F-1 visa processing time may be a bit longer. So, starting the process as soon as possible is highly advisable to ensure that you don't face any delays.   
To get your F-1 visa, you need to have important documents such as a nomination visa application form DS-160, an application fee payment receipt, and a passport photo. Some additional documents such as academic transcripts, degrees or certificates, and test scores may also be requested.  
F-1 Student Visa USA Application Process
Now that you know the requirements, you would be eager to know how to apply for a student visa in the USA. Let's walk you through the process: 
Collect Your Admission Documents from the S.E.V.P. Institution
Following your application and acceptance to the institution of your choice, the authorities will need to complete various procedures before you can apply for an F-1 visa. Form I-20 and a certificate of eligibility for non-immigrant student status are the most significant documents you'll need. If you don't have this form, you won't be able to apply for an F-1 student visa USA or attend your interview. So, collect your admission documents from the SEVP institution. 
 1.
Apply Online Through the DS-160 Form
After you have your form I-20, you can begin the application procedure. All you have to do is fill out the DS-160 form online with the information regarding your visa status.  
 2.
Pay the Application Fee
After completing the form, you have to pay the required application fee for your visa. You must pay this fee in due time and get your receipt, which you will need later on for your interview, along with your other documents.   
 3.
Pay Your S.E.V.P I-901 Fee
When you get admitted by the S.E.V.P. institution, your institution will immediately register you in the Student and Exchange Visitor Information System. To fully register yourself, you need to pay a SEVIS I-901 fee. For an F-1 visa, the fee is usually $200.  
 4.
Schedule Your F-1 Visa Interview 
You must arrange your interview after completing the DS-160 form and paying the fee. The interview is one of the most crucial parts of obtaining a student visa. Once you've scheduled it, try to get it done as soon as possible. An interview appointment letter will be sent to you, which will be needed later in the application process.   
 5.
Attend Your F-1 Visa Interview
Now finally, when you reach this stage, you will have to answer certain questions to the respective interviewer that would revolve around your reasons for going to the U.S. Usually; the interviewer will try to assess if you intend to return to your home country after completing your degree.  
Top 5 Most Important Interview Tips 
Remember that there is no shortcut to passing your interview. A successful U.S interview requires excellent preparation. Here are some tips that might help you to crack your visa interview. 
1. Create a Good Impression
The first impression is the last impression. Try to be on time and dress appropriately; formal wear is preferred. Be courteous, friendly, and polite throughout your interview.   
2. Be Calm, Composed, and Confident 
Be a confident person as you are the best person to represent yourself. Also, be ready to answer any type of strange questions; these are only meant to test your skills or I.Q. Answer them confidently.
3. Be Well Prepared 
It is advisable to prepare for the interview questions in advance. You can get help with mock interview sessions or by researching the questions generally asked the aspiring applicants.  
4. Keep Required Documents Ready
Get a copy of all the required documents with you for the interview. This includes your appointment letter, visa, fee receipt, passport, letter of admission, degree transcripts, score sheets, etc., neatly filed in your folder. 
5. Don't Sound Like a Potential Immigrant 
One of the most important student visa interview tips is to indicate in your answers that you are only planning to study abroad and not immigrate.   
Final Words! 
Now that you have an idea about the F-1 visa, you can create a checklist for yourself and get started. So, the sooner you begin, the better your chance of securing your spot in your desired university. Getting help from an immigration consultant is highly advisable as they guide you throughout the process.  Immivoyage, an immigration consultant in Mohali, can help you reach your dream destination. Feel free to contact Immivoyage. Good luck!