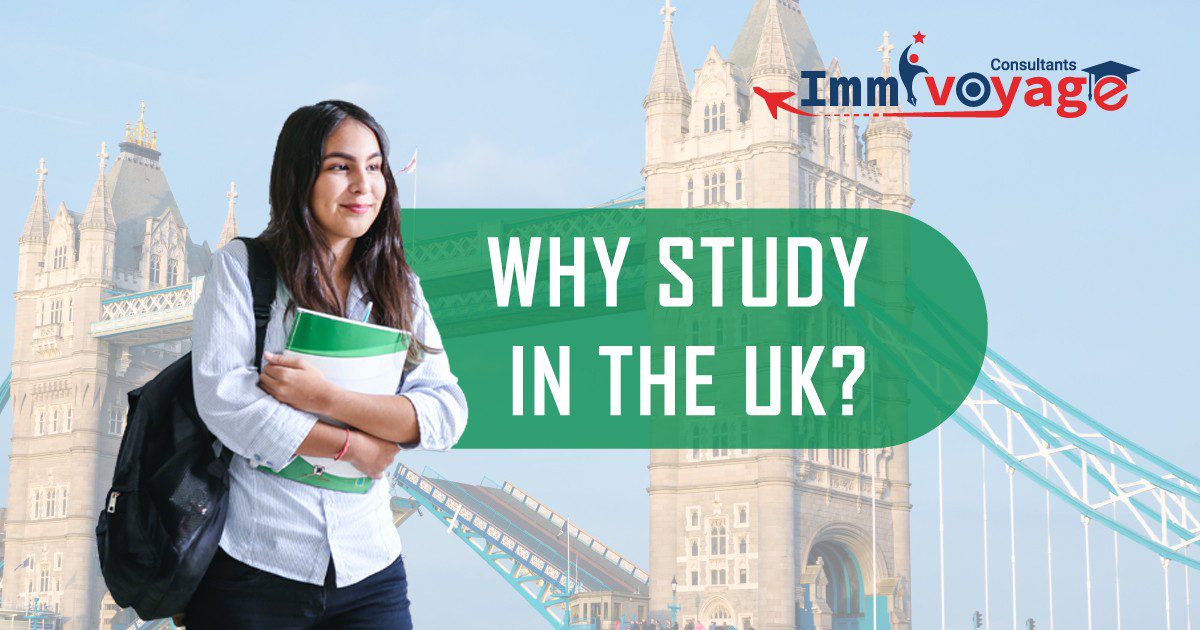 19 Jan

Why Study in the UK

Choosing between study in the UK and any other country in the world can be most challenging for anyone. Apart from giving you international exposure and broadening your horizon, studying in the UK has many advantages. In this blog, we'll talk about why study in the UK is the best option for you.


So, let's have a look at the seven benefits of studying in the UK.
High Standard Education
The United Kingdom is well renowned for its standard and quality of education worldwide. Time and again, UK universities have been strongly featured in the world ranking. In the Times Higher Education World Rankings 2021, two of the world's top ten universities are from the UK. This shows the standard of higher education in the UK. Getting a degree from any of the colleges in the UK will be highly beneficial for you.
Universities are Internationally Recognised
UK government guarantees the credibility of their educations overseas, and you can check the quality of education at The Register of Regulated Qualifications. It contains details of Recognized Awarding Organizations and Regulated Qualifications in England, Wales, and Northern Ireland.
The top 5 universities in the UK are:
Oxford University
University of Cambridge
Imperial College London
London University
College London (UCL)
University of Edinburgh
The degree that you will get from your college in the UK will be recognized internationally. It will help you get work anywhere in the world.
Cultural Diversity
The UK has been a multicultural country with people from different communities worldwide settling there. People from different ethnicities respect each other's differences and celebrate different festivals; for instance, locals in Leicester celebrate the festival of Diwali. So, you can be very sure that you will receive a warm welcome and you will be rubbing your shoulders with some of the brilliant minds from all over the world if you choose the UK as your study destination.
Health Benefits
Indian students can get free medical treatment from the National Health Service (NHS) if enrolled in a full-time course. If the spouse/partner and/or dependent children are staying with you during your study program, they will also be exempt from payment. Some colleges or universities may have a special health policy for students too. This comes as a great benefit if you are studying in the UK and you don't have to worry about health expenses.
Funding Opportunities
One of the best features of the UK education system is that they offer different scholarships to students to fund their education. Most of the scholarship programs offered by universities in the UK are based on academic abilities. Before applying, you need to explore and check your eligibility because each university and college has its own merit program system.
World-Class Research
In a report on International Comparative Performance of the UK Research Base, the UK has had a significant proportion of its research among the most widely cited in the world than any other comparator since 2010. It is the second most internationally collaborative country over the past five years. The UK has maintained its seven percent share of all global publications, and over half its publications result from international collaboration each year.
Work Permit While Studying
In the UK, international students can gain experience while studying. There are many ways international students can find a part-time job, internship, or placement that they can later add to their CV as experience. Some universities in the UK may help you in a work placement, helping you maintain study expenses. If you choose to study in the UK, you will be able to earn while studying and save your money on fees and accommodation, which is a great reason to choose UK among other countries for your higher education.
Conclusion
Studying in the UK offers immense benefits such as high-quality education, internationally recognized universities, diverse cultures, numerous health advantages, funding options, and top-class research. Still looking for more information such as top universities to study in the UK or the cost, you can fill the Enquiry form. Our United Kingdom study visa expert will give you a call for detailed information, or you can directly contact us.
A content specialist who has written articles on digital marketing, SEO, and content writing. When she's not writing, you can find her reading or watching cricket.