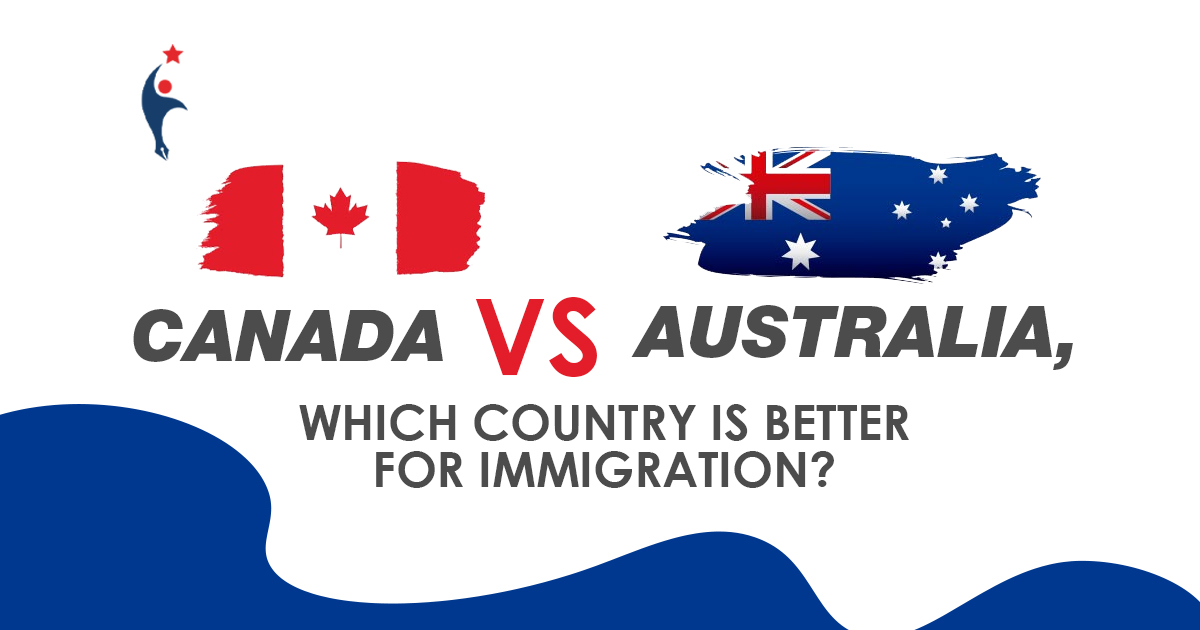 25 Oct

Canada Vs. Australia, Which Country is Better for Immigration?

Immigration is vital to the economic health of Canada and Australia. Over the past decades, the two countries have increasingly relied on new permanent residents and temporary visa holders, such as international students and foreign workers, to support their population, workforce, and economic growth. The debate which one is better for immigration- Canada v/s Australia for Indians has always been the talk of the town.    
Also Read This-  How to get permanent residency in Australia
When thinking about migrating, many people ask questions like: "Which country is better to immigrate to, Australia or Canada?", "Canada or Australia, which is better for its jobs?" Are you also having the same questions as these and confused whether to live down under with the kangaroos or up north with the moose? Of course, that is a complex and challenging question. So, before making your decision, have a look at Canada vs. Australia comparison. It will help you decide which country will be the best suited for you. 
Let us talk about these comparisons in detail so that you can make up your mind which country will suit your needs.
Cost of Living in Canada v/s Australia   
In comparison to Canada, Australia is considered a bit more expensive. Of course, this differs from city to city. But when you reach the cost of living, Canada is 17.7% cheaper than Australia.  
Health Facilities 
Primary health care is free in Canada for most of its residents, and it's delivered through Medicare. Each province has its eligibility criteria for providing health care. Health care costs are also lower here. On the other hand, Australia features a robust healthcare system where you can access medical facilities when you become a permanent resident. However, many Australians prefer to take out private health insurance to cover dental and specialist care costs.  
Employment Opportunities 
The salary in Australia is slightly higher than in Canada. But when it comes to searching for work, no country is that easy. Depending on the category, jobs are available in both countries. However, work in Canada would be relatively easy to find due to the more popular occupations for skilled workers.  
PR Process in Canada v/s Australia  
It is easy to get a permanent residence in Canada compared to most other countries. Obtaining permanent residence in Australia is possible, but it is a long process. Immigration officers conduct a thorough background check on the candidate to make sure they are not fraudulent.  
Average Working Hours in Both the Countries 
To decide whether Canada or Australia is better for jobs, you can consider the working hours in both the countries. The standard work hours for federal employees in Canada are 8 hours per day, that's up to 40 hours a week or 2,086 hours a year. Whereas standard working hours in Australia for employees are 7.6 hours per day.  
Housing Expenses  
Housing and rents are cheaper in Canada and therefore making Canada significantly cheaper than Australia. The only reason is the high tax rate in Australia. A one-bedroom apartment in central Canada costs 14.4% less than the same in Australia. A recent survey shows that it is easier for immigrants to buy their own home and become homeowners soon after arriving in Canada than it is in Australia. 
Taxes One Has to Pay 
Canada has a top tax rate of 33.0%, while Australia has a top tax rate of 45%. So, if you live in Canada, you will have to spend 26.7 % less in taxes than in Australia. 
Education  
Both Canada and Australia are the top study destination for international students. However, studying in Canada is much more lucrative and affordable than in Australia. The quality of education in Canada is higher than in Australia. Canada has set itself the goal of accepting highly qualified specialists and offering them long-term career prospects through excellent theoretical and practical teaching methods. 
Conclusion  
It can be challenging to say which country is better, as, in the end, it all depends on the type of lifestyle you want, your profile, and personal preferences. Both countries offer lavish lifestyles, excellent infrastructure, and strong economies. So, choose according to your preferences. 
If you need help from a professional immigration consultant in Mohali to make the right decision, get in touch today!! 
Deyasini Das- a content writer, speaker, fitness enthusiast, and artist. When she's not writing you will find her dancing, hitting the gym, making reels, or always around dogs. She started writing from her school about fashion and over the years graduated to articles, blogs, and website content.