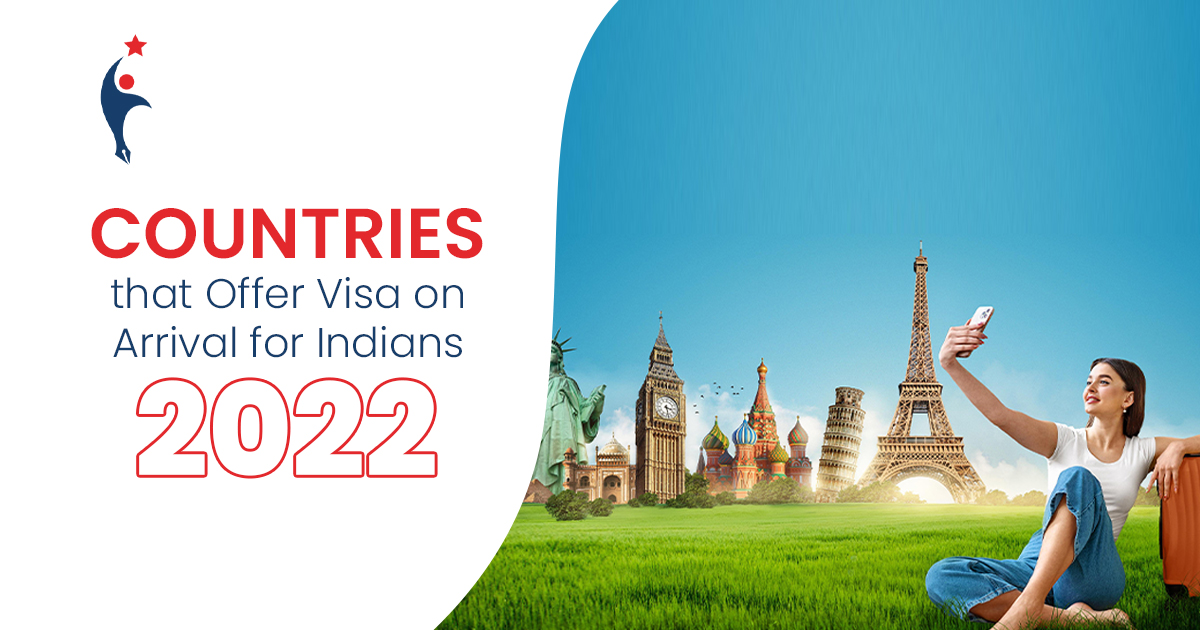 16 Feb

Countries that Offer Visa on Arrival for Indians 2022

When planning an international trip, the first thing that comes to any Indian's mind just like you and me is obtaining a visa, and that can surely be a cumbersome process. Indians spend hours researching on the internet the complex visa application processes for the countries they want to visit. But did you know that there are few countries in the world that offer on-arrival visa to Indian citizens? So, if you are looking forward to visit countries that offer visa on arrival for Indians, this article is just for you!  
10 Countries that Provide Visa on Arrival to Indians
While many countries want Indians to apply for visa beforehand, there are some countries that offer visa on arrival to Indians. According to recent reports, Indian passport holders can now visit 59 countries throughout the world without a visa. Let's have a look at some of them:   
Holders of Indian passports no longer need to obtain a visa to enter Nepal. If you hold an Indian passport, you will not be required to seek a visa when travelling or booking a ticket to Nepal. All you need is proof of nationality, which can be in the form of a valid Indian passport or an ID card, such as voter's card, a driver's license, an Aadhaar card, a birth certificate for children, or a school/college ID.  
The Maldives features islands with white sand, crystal clear sea, and sheltered lagoons. The country's remarkable beauty is like paradise. It is often regarded as the ideal holiday destination and one of the visa-free countries for Indian passport holders. This means that you can visit this beautiful island for at least 90 days without obtaining a pre-arrival visa. You only need to show your valid travel documents.  
Remember, if you are flying from India to the Maldives, your passport must be valid for at least six months from the date of arrival, and you must have proof of hotel or housing reservations.  
Indonesia is a fantastic choice for any Indians who wish to travel outside of the country either for business or pleasure. It is on the list of visa-free countries for Indians, so a 30-day visa is not required. All you have to do is go to an immigration counter and receive a visa waiver stamp. If your trip is more than 30 days, you can apply for a visa when you arrive in Indonesia.  
So, if you're planning a trip, book a flight to Indonesia and have a wonderful time exploring this lovely nation!  
Mauritius is a picturesque island in the Indian Ocean. The island nation lies roughly 900 kilometers off the coast of Madagascar and is considered one of the region's most beautiful islands. Because of its rich history, attractive terrain, and cultural heritage, this small country attracts many Indian tourists.  
If you're planning a trip to Mauritius and have an Indian passport, you won't need to bother about obtaining a visa before booking your flight. It is a country Indians can visit without a visa for 90 days and can apply for special permission to remain for up to 180 days, depending on their purpose of travel.  
Sri Lanka is another Indian neighbor that does not require Indians to undergo lengthy visa requirements. In fact, with a unique pre-obtained authorization, you can get a visa on arrival fast and easily. Sri Lanka, the home of demon king Raavan, is tropical beauty that can also offer spiritual ecstasy. The rivers and beaches, the mountains and plateaus, the monasteries and temples that mesmerize you can all be found here.   
Unlike the rest of the world, Indians can arrive in Thailand with a ready-to-use visa. They are welcomed with open arms in this land of monasteries, tigers, and beaches. Thailand's glistening sands, limestone caverns and caves that line the shores, and endless shops on streets and in malls make it so gorgeous that you'll weep with delight.  
After paying a modest entrance charge in Thai Baht, you receive your visa and are stamped in as soon as you arrive at one of the airports. Because this visa is only valid for 30 days, you should limit your stay to that time.  
Seychelles is a gift to mankind, consisting of 115 islands that makes it one of Africa's most relaxing locations. It offers a Visitors Permit on arrival for Indians free of charge for a period of 3 months if you have adequate funds and a return ticket. If you can't get enough of the island, you can even extend your stay for another three months, up to a period of 12 months from the date of issue.   
Serbia is one of the nations where Indians can enter without a visa. It is one of Europe's most beautiful countries, with a diverse cultural, historical, and architectural legacy. It is also known as the Balkan Pearl or the Balkan Peninsula's Giant. Indian citizens can purchase flights to Serbia if they have a valid passport, a hotel reservation, a return ticket to their home country, and enough money to remain in Serbia. Additionally, they can stay in Serbia without a visa for up to 30 days. 
Georgia is a former Soviet republic that is now a major tourist destination. It is located just north of Turkey on the Black Sea and straddling the Russian border. The country with its spectacular Caucasus mountains and beaches, mesmerizing tribals in the hills, and modern towns that make you blink is a terrific destination to see the most incredible European beauty. And, if you apply for an e-Visa before coming here, you'll have no paperwork to worry about!  
The Turks and Caicos Islands are located in the Atlantic Ocean and represent unique tropical vacation spots. You're going to fall in love with these islands, with diving places and caves beckoning you to explore, adventures like parasailing, windsurfing, and kayaking at your disposal, and visa-free access to its natural treasures. This country's culture is stunning, and flying there visa- free allows you to experience it without the stress of any paperwork. Amazing right?  
Now that you have gone through a few of the above-mentioned countries that offer visa on arrival, you are free of much of the paperwork and hassle that is involved in the visa application process.  
Before packing your bags remember to check for the most up-to-date information on visa regulations for Indian nationals. Suppose you do not have a visa and are not qualified for visa-on-arrival for Indians or visa-free entry into a particular country, immigration authorities there may prosecute you for attempting to enter it illegally.   
Hence, if you don't want to have any immigration-related problems, you should seek advice and assistance from a professional immigration consultant. Immivoyage, a visa expert in Mohali, is always here to help. Feel free to contact!  
Deyasini Das- a content writer, speaker, fitness enthusiast, and artist. When she's not writing you will find her dancing, hitting the gym, making reels, or always around dogs. She started writing from her school about fashion and over the years graduated to articles, blogs, and website content.