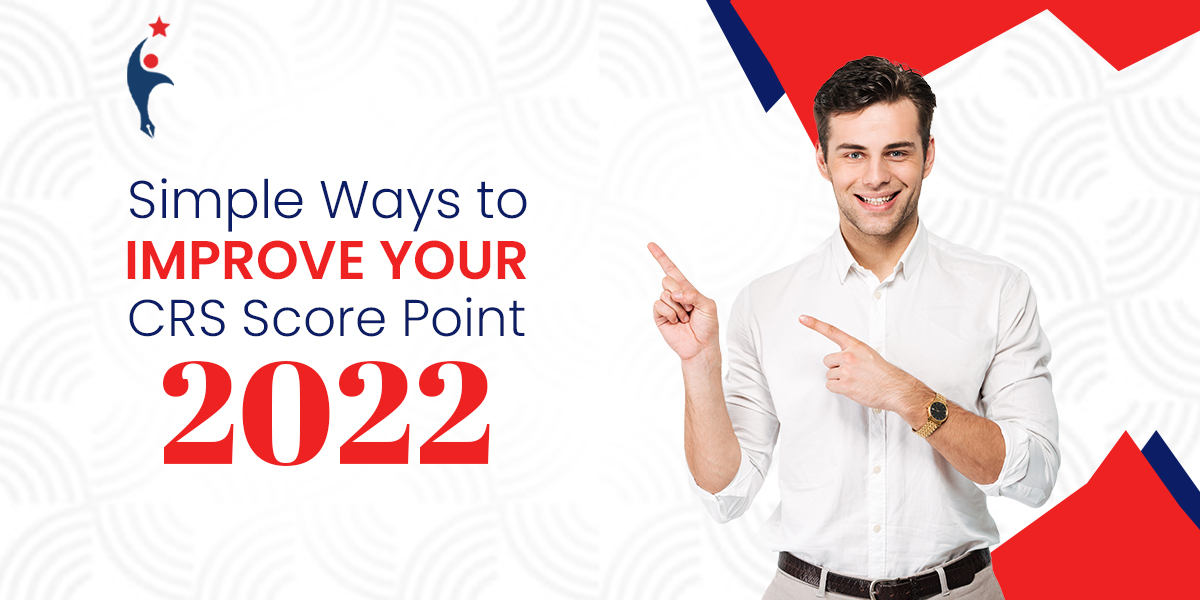 14 Apr

Simple Ways to Improve Your CRS Score Point 2022

The Canadian Government established a new computerized immigration system in January 2015 called Express Entry. It allows skilled and qualified individuals to enter Canada quickly. But before applying for Express Entry, you must first qualify for it. If you have a score of 67 or above, you can be eligible for the Federal Skilled Worker Program. If your score is less than 67, you will not be accepted into the program. 

There are many ways of improving your CRS score in 2022. Before we talk about them in detail, let us first find out how you can calculate your Express Entry points. 

 
How to Calculate Your Canada Express Entry Points? 
You can calculate your CRS points score for the Federal Skilled Worker (FSW) category using the Comprehensive Ranking System Tool CRS calculator. The candidate must score at least 67 points on the Express Entry Points Calculator in order to be registered as a qualified candidate for Canada immigration. 
Now that you know how you can calculate your Express entry points, let us move on to different ways you can improve your CRS score. 
7 Ways You Can Improve Your CRS Score
 Even if you've done everything you can to achieve the best possible score; you'll need to take action. Don't just put your profile in the pool and hope to get chosen in a random drawing. The parameters for a draw are always changing, and the CRS score is not 'locked in'. Your score will grow as your abilities develop. The modifications may appear modest, but they can have a significant influence on your overall score and determine your eligibility for future draws. 
Some improvements that you make may only add a few extra points to your improve your CRS Score Point . Yet these points can make all the difference. Hence, it is important to know how you can score additional points for the Express Entry program.
Learn Canada's Second Official Language: French
Do you know that a single candidate's language competence may be valued at up to 260 CRS points? Yes, that's right because French and English are both official languages in Canada. So, enroll in a French class and learn additional language in addition to English to win extra points.  
Extra points are awarded for an increase in test results across the four language abilities (speaking, listening, reading, and writing). If you can achieve a Canadian Language Benchmark (CLB) level of 9 in each ability then it will be a cherry on the cake. If you studied French in school or have a good understanding of the language, you should consider preparing for the Test devaluation du François (TEF) too. 
 Gain Work Experience
Keep working if you have fewer than three years of full-time experience in Canada. It doesn't matter even if the Canadian work experience is rated more than non-Canadian work experience but what matters is that you have work experience. More points are awarded for having work experience and they are awarded each year for up to five years. Just make sure that while you're working in Canada, you keep your legal employment status. 
 Study 
You can come to Canada to study before submitting an Express Entry application! Having study experience in Canada can help you greatly improve your CRS score. It is highly likely that you are going to Canada on study visa or are currently in Canada on student visa. But if you are not and considering applying for Express Entry program, get education in Canada first.  
Go for Additional Certifications, Diplomas or Degrees
If you have two or more certifications, diplomas, or degrees, you may be eligible for bonus points in the education area. Additionally, finishing a second level of schooling might be useful. Some applicants are just a few months away from finishing a degree, diploma, or certificate that, if examined, will help them enhance their CRS rating. If you already have more certifications or diplomas then it's well and good. But if you don't and want to learn more, go for additional certifications.  
Get Your Spouse on Board
Candidates who have a spouse may have more opportunities to improve their CRS score because their spouse's degree of education, language proficiency, and Canadian job experience may all be considered. The initial language scores of your companion might boost your CRS by up to 20 points. You can add up to 10 points to your CRS score by getting ECA done for your partner's education. 
Provincial Nominee Programs
It's time to learn about the Provincial Nominee Programs if you want a 600-point increase on improve your CRS score point and the assurance that you'll be welcomed with open arms into your selected destination province (PNPs). A nomination from one of the provinces participating in the Express Entry Provincial Nominee Programs is going to boost your total CRS by 600 points and, in most situations, guarantee you an ITA in the following draw. It's critical to show your whole educational and job history, remain updated on Canadian immigration news, and have all of your paperwork available and inspected in order to submit an application as soon as possible. 
Have a Valid Job Offer
While the relative worth of a qualified job offer isn't as high as it previously was in most circumstances, it's down to 50 CRS points from a prior value of 600 but getting a job offer is still a crucial factor. Obtaining a job offer if you are not already residing in Canada might be tough, but there are several online platforms where you can look for work. 
Last Words
Now that you know these practical ways of improve your CRS Score Point , get to work. Make it a practice to review your profile on a regular basis to see what changes may be made. 
Have any questions? Get in touch with Immivoyage, your reliable Immigration Consultants in Mohali. With the help of our knowledgeable staff, you can retake language tests with expert language coaching, have your profile analyzed, and more. So, what are you waiting for? Contact us today!! 
Deyasini Das- a content writer, speaker, fitness enthusiast, and artist. When she's not writing you will find her dancing, hitting the gym, making reels, or always around dogs. She started writing from her school about fashion and over the years graduated to articles, blogs, and website content.