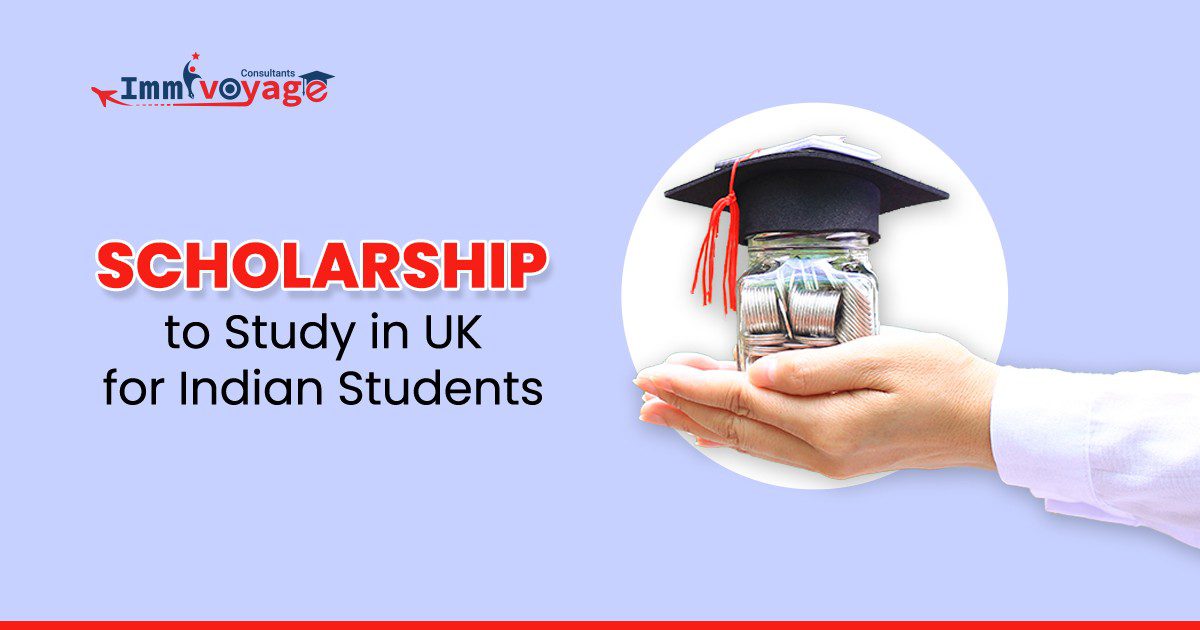 01 Jul

Top 12 Scholarship to Study in UK for Indian Students

Studying abroad can open doors to a successful career. Many Indian students dream of studying abroad. But the biggest challenge that they face is raising funds for their study. While some realize their dream of studying in the UK, there are many who are intelligent, hardworking but do not have enough money to fund their studies. To help such deserving students, the British and Indian governments offer many Scholarship to Study in UK for Indian students.

Many governments and educational institutions are offering scholarships for Indian students to study abroad. We have compiled a list of Scholarship to Study in UK for Indian students. Our main focus is the UK. Let's go through them.
1. Commonwealth Scholarship and Fellowship
It is for students from Commonwealth countries. So, Indians applying for a Master's or a Ph.D. in the UK can apply for this scholarship. The scholarship covers airfare, tuition fee, and some living expenses. You can get in touch with the best study abroad consultants in Mohali to know more about it.
2. Charles Wallace India Trust Scholarships: 
Formed in 1981, Charles Wallace India Trust or CWIT is enabling Indian students to fulfill their ambitions of getting quality education in the UK. Doctoral students, research students, and visiting fellows can apply for the scholarship.
3. UWE Bristol International Funding and Scholarships
Many international students, including Indian students in UWE, can get tuition fees and maintenance funding. Whether you are looking for full-time/ part-time UK undergraduate funding or postgraduate funding, click here to apply and check your eligibility.
4. International Postgraduate LLM Scholarships by the University of Southampton:
High-achieving international students who have a place on one of the University's LLM programs are eligible for this £3,000 scholarship. The programs must be starting in September 2021. The selected student will get the scholarship in the form of a tuition fee reduction. Click here to know more.
5. Scholarships by the University of Sheffield:
The university offers various scholarships for undergraduate and postgraduate international students with strong academic potential. Indian students who want to get a scholarship can check their website here.
6. The Oxford and Cambridge Society of India (OCSI) Scholarships:
Indian students who want to do graduation, one-year post-graduation course, or research in any subject that Cambridge and Oxford offers can avail these scholarships. To check eligibility criteria and other information regarding the scholarship, click here.
7. The Felix Scholarships:
With the help of these scholarships, outstanding Indian students can pursue graduate studies in any subject at the University of Reading, the University of Oxford, and the School of Oriental and African Studies, University of London.
8. Global Scholarship by University of Aberdeen:
The university offers a total of £5,000 reduction in tuition fees to eligible India- resident students. The best part about this scholarship is that there is no deadline as no application is required for this scholarship.
9. Saltire Scholarships:
The Scottish government, in association with Scottish universities, award these scholarships in the areas of science, technology, healthcare and medical sciences, creative industries, and renewable and clean energy. Along with Indians, these scholarships are open for citizens of China (including Hong Kong), Canada, the USA, Pakistan, and Japan.
10. Scholarship for Indian Students by the University of Sussex:
Students having Indian nationality and been accepted by the University of Sussex to study an eligible Masters course there can apply for this scholarship. The last date to apply is 1 September 2021 at 0:00 (GMT).
11. GREAT Scholarships India by British Council:
Under this campaign, 60 study abroad scholarships from UK universities are offered to students from India. The scholarship worth a minimum of £10,000 is being provided across a variety of subjects
12. Chevening Scholarships:
This scholarship is offered to extraordinary Indian students who have prior leadership skills and have shown exceptional performance in their respective fields. The scholarship is fully funded, and tuition fees, living expenses, and airfare are included.
Takeaway:
Depending on whether you are planning to do under graduation, post-graduation, or research, the course you will be pursuing, or the college you have chosen, you can consider any of the above scholarship to study in UK. If you still need help to figure out the scholarship you are eligible for, get in touch with study abroad consultants in Mohali.