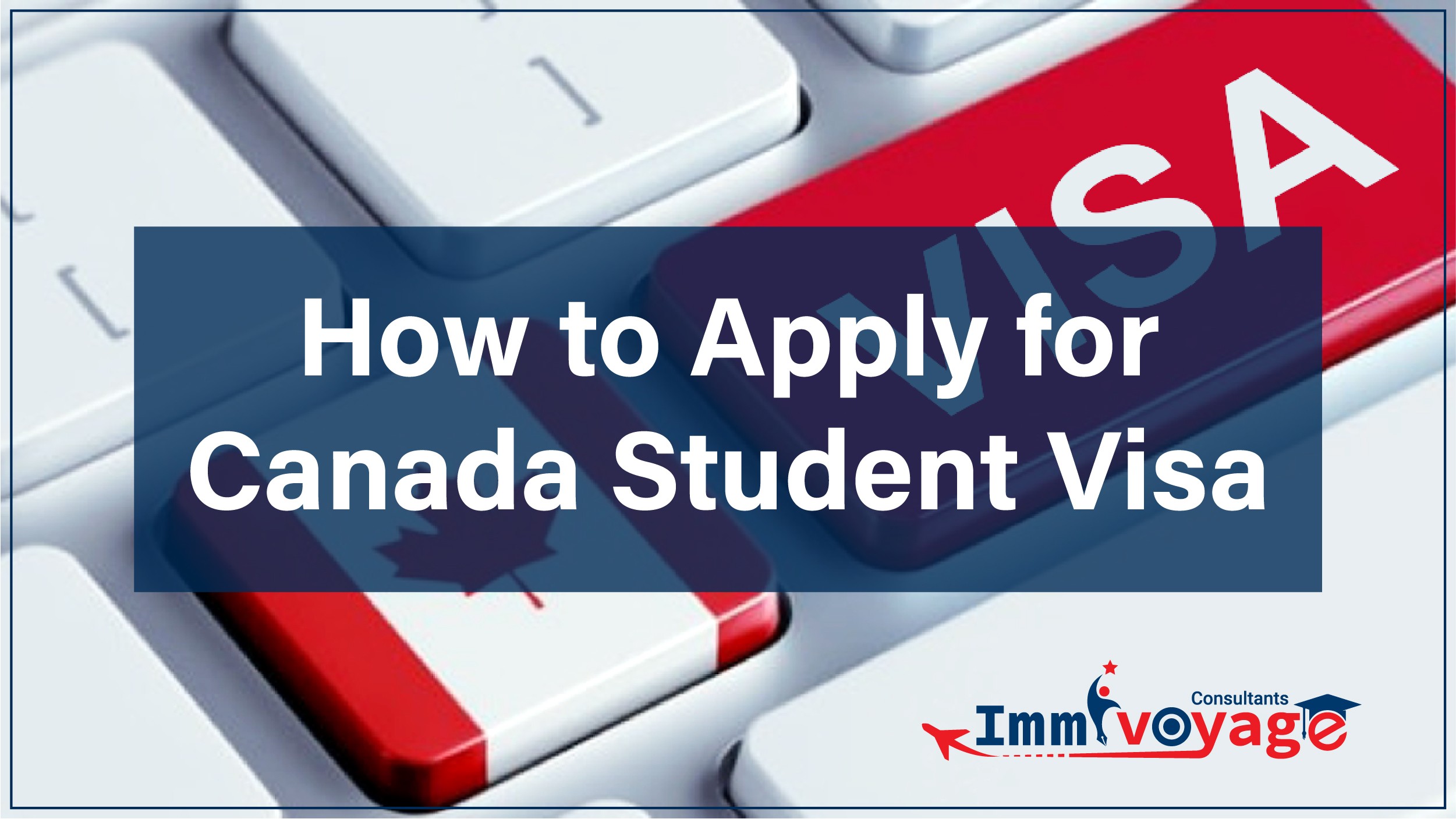 16 Nov

How to Apply for Canada Student Visa

Every year, over hundreds of thousands international students apply for Canada student visa to study at reputed Canadian universities and pursue courses in different disciplines. In addition to being home to some of the best universities of the world, Canada also provides numerous possibilities and a vibrant culture.

So many students want to study in Canada and have a bright future. Are you one of them but do you know not how to apply for Canada student visa, also known as a Canadian study permit? Don't worry because in this blog we will walk you through every step that is involved in the visa application for Canada. 

 
Student Visa 
Canada Requirements
Before you apply for a study permit, you will need: 
A proof of acceptance like acceptance letter from a designated learning institution (DLI)
A valid passport/ travel document for identity proof

 

A letter of explanation that will help the visa officer understand why you want to study in Canada

 

Proof confirming you have no criminal record.

 

Your medical records showing

 that you are in good health

 

Proof that you can support yourself, and any family members who accompanies you, while you're in Canada

 
To prove that you are capable of financially support yourself and any accompanying family members, you may be asked to provide: 
Details of a Canadian bank account in

 your name, if money has been transferred to Canada

 

Evidence

 of a student

 or 

education loan 

taken 

from a financial institution

 
Bank statements

 

Proof of payment of tuition and accommodation fees

 

A letter 

of

 the person

/

institution providing your funding

 

Proof of funding paid from within Canada

 (

if 

applicant has

 a scholarship or are 

part of

a Canadian-funded educational program)
Some common documents that you will need for Canada student visa are: 
Valid Passport

 

Two passport size photographs 

 

Attested copies of 10th, 12th and Degree certificates 

 
Statement of Purpose

 

Certificates of extracurricular achievements 

 

Proof of payment

 
How to Apply for Canada Student Visa
Generally, you must apply for a study permit before you come to Canada. Some people can apply for a study permit from within Canada. In some cases, you can apply when you arrive in Canada at the port of entry. You just need to understand which option is available to you.
To get student visa, you can: 
Apply online 

 

Apply on paper
COVID-19 has caused service disruptions due to which the Citizen and Immigration (CIC) authorities are experiencing difficulties receiving and processing applications submitted by mail or in person at VACs (Visa application centres). So, it is suggested that you apply online only. 
Indian students applying to universities and colleges in Canada can now get the study permit faster through the Study Direct Stream (SDS) program launched by the Immigration, Refugee and Citizenship Canada. Its fee starts from 150 CAD and the processing takes usually around 20 calendar days. However, if you choose to apply through SDS, you may need certain additional documents. 
Note: All the students coming to Canada after October 20, 2020 are recommended to check that their DLI is on the list of DLIs with approved COVID-19 readiness plans. You can check the list here. 
Steps to Apply Online 
 You can apply online for your study permit by following these setps:
Make sure you have scanned copies of your documents 

 

Create your online account on the Citizenship and Immigration Canada (CIC) website

 

Read instructions carefully and fill-in your student permit application

 

Pay your fees (processing fees for you and anyone you include on your application and biometrics fee)

 

Submit your application and check your status regularly

 
You may need to pay for medical exams, police certificates, language testing, and services at a Visa Application Centre, if you use one. But this all depends on your situation. You will make this payment directly to the third party. 
Benefits of Applying Online:
Your application will reach CIC authorities instantly as mail delivery time is eliminated 

 

The application processing time is reduced

 

It helps you ensure your application as an incomplete request is not accepted online 

 

You can submit your other required documents quickly, as and when required 

 

You will get updates on the status of your application directly in your online account

 
After You Apply for Canada Student Visa
Once you have successfully applied for study permit, you will need to give biometrics. After you make payment of the biometrics fee, you will get a letter that says you need to give your biometrics. The letter will give you information about how and where to give your biometrics. Once you complete this process your study permit application will process further. 
Conclusion
We informed you in details how you can apply for Canadian student visa. It may take up to 90 days to process your visa application. So, relax and wait for your student visa. 
Deyasini Das- a content writer, speaker, fitness enthusiast, and artist. When she's not writing you will find her dancing, hitting the gym, making reels, or always around dogs. She started writing from her school about fashion and over the years graduated to articles, blogs, and website content.